Crias 2015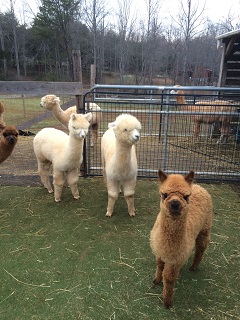 Here you can see Cleo's Bandit ( the little brown male) who showed at CABO 2016 as a 6 months one day old and he received a great appraisal by the judge who placed him 2nd in a large class of juvi males all way older than him. This boy was true to form with great confirmation and full fleece characteristic still with his cria tips.
The two white crias also showed at CABO and did well with 3rd positions in large juvi classes. Cleo's Jewel, and Cleo's First Horizon D both went on to Southern Select 2016 show and received ribbons in very competitive classes.
Now for shearing and the sampling of all the fleece.